As you read this, I want you to have the tune "You're-at-work-and-I-am-not (doo-dah, doo-dah)" in your head.
So I've taken today off in the hopes of getting some shit done (have a actual To Do List and everything) and what I have accomplished as of 12:30 has been the following: 1. wake up (8:30) 2. get coffee (9:30) 3. make list (9:35) 4. scan and organize various old photos from my smiley, sunshiny teen years....(not on list).
Oh yeah, I dug deep and found the bravery (nay stupidity) to find some photos I had kicking around (and a few I jacked from Mom without her knowledge), and scanned/uploaded them to Flickr.
Since you are (most likely) at work and I still am not, I will share with you a few of the high/low lights of my years on this earth: 1986-1992.
Here I am in 7th grade, rocking among other things, a preppy mullet, a 40 year-old's wardrobe, and some sexy mouth breathing (asthma, overbite, mouth full of metal not helping matters much). As I see it, I look like I'm the Superintendent of Schools, and not the actual 13 year-old I was. Also, lest you think that I was part of the "Hi, my name is Muffy" contingency, actually these would be the years my and my siblings took either free or reduced fare lunch. Irony I think.
"The original 40 Year Old Virgin"
Summer before 8th grade I think. At least I had the presence of mind to cut off the "mullety goodness" and call a Hair Do-Over.
Too bad that this would be the year I'd go to the Bronx to hang with my cousin Lisa, and wherein some of her crappy friends of friends with their big bangs and harsh make up and loud, tight clothing, would not buy that I was a girl, that is, until thankfully someone saw I was wearing pale nail polish (otherwise I was going to have to "prove it"). True story, unfortunately. I'm sure boobs would have helped my case tremendously, but little did I know that those were on back order until 1999 or thereabouts.
Here I am at the 8th grade semi-formal.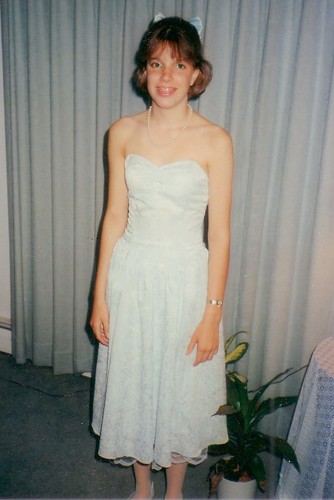 The hair has fortunately grown out some and my skin looks pretty decent. As you may know, the 8th grade spring fling is a B.F.D. I did not have a date or a gaggle of girls I was gonna hang out with (I was always going "stag"), but damn I was going to make the effort to look good. I think, if I may be so bold, Mission Accomplished.
My Mom and I were known for having a battle of wills when it came to my wardrobe, but for once in my then 14 years, I *really* got to pick out what I wanted, and not just what she wanted and me caving. I loved this dress. LOVED. Though it wouldn't be us if there wasn't one ta-do, and that would be over shopping for the strapless bra. We when realized I needed one, Mom and I headed over to the department store Sage Allen, but with the store's open floor plan, it made so that anybody could see what section you were shopping in. I know I gave her some lip about having to go in, be measured in, and possibly be busted (heh) by a run-in with my peers in the Godforsaken "Intimate Apparel" department. And do you know, she'll still bring this up even though it's been some TWENTY YEARS LATER? I digress. I danced one slow dance with Steve Barnes (who was spoken for by the girl he ended up marrying). He told me I looked very nice. I actually believed him.
Next up is me in my freshman year. Well, the hair is getting longer, and looks like I had a perm too. I think I came whipping around the corner and my sister Kate took this. My hatred for getting my picture taken was notorious and my hand in this position indicates to me that I'm a little slow on the draw in covering my face up and this very well may be Kate being evil bitch.
This sweatshirt also warrants some explanation. As a freshman in the school's band class, my seat was next to this HUNK of a senior named Ted. No, really, he was a HOT and also incredibly kind to me. Naturally, I had the biggest crush on him and I'm sure I acted pretty lame and moony-eyed in front of him. Anyway, ya wanna guess who had this sweatshirt first and wore it often? ("yes, Jen, wear the same sweatshirt as your crush and he will pay you much attention now that you have "Newport Blue" in common and eventually want to be your boyfriend!"). Yeah, I know, I know...loser.
Homecoming Dance, sophomore year (1988). Hair is Sun-In'ed and curled within a inch of its life, and I am flanked by my little sister and brother Emily and Brian (ages 10 and 8 here). Once again going to the dance stag (on all counts, for I had no girl posse), "but that is no reason not to go!" said I. I guess I wanted to see what would happen, maybe for once my fantasy where a cute boy would ask me to dance and then I'd have instant presto boyfriend-- or at least something to talk about afterward (sadly, I would learn: nothing. interesting. happens. EVER.). Years later I will qualify this as "building character".
Now here I am at my grandfather's birthday party the summer between sophomore and junior year (I'd just gotten out of the pool which is why my hair looks like a rat's nest).
I highlight this gem as it displays my first ever concert tee-- R.E.M. from their Green World Tour. I was dying, just DYING to go but I didn't know anyone who liked them, and also key, anyone who had a license, so I asked my Dad to go. He bought me this X-L sized shirt even though I probably weighed about 115 lbs. When I called him on this point, he told me it was the only size the had left. But lemons/lemonade, this did not stop me from wearing the clearly 8 sizes too big shirt all. the. damn. time. Seriously, if I didn't blouse it out at the top of my shorts, it'd be to my knees but I wore that thing until it had holes in it.
(And while I'm throwing myself under the bus, let's look at my cousin Bethany's shirt, shall we? Yeah, say what you want about my over-sized disaster, but at least I don't have sewn on suspenders on my t-shirt.)
Here I am on the night of the junior prom.
What, your junior prom didn't look like this, what with the army green hoody, a living room arrangement and your mom and kid brother by your side? Yeah, so after asking (at last count) 4 guys to the prom (which if you knew how shy I was, absolutely KILLED me, but it was that or waiting for someone to ask me which WAS JUST NOT HAPPENING and I didn't want to feel sorry for myself because I just stood there idly by), apparently 4 Nos I conceded that the jr. prom wasn't gonna be a go for me. This did not mean that night of I wasn't as moody as a teen ripped from the set of My So Called Life. My scent was Melancholy and I was bathed in it. In this photo, we're at my mom's boyfriend's house, and she's acting like a spazz (well, that's what I'm calling it, some people may call it "being happy") in an effort to shake me of the semi-permanent sourpuss. I believe my smile here can be coined "humoring her" in an attempt to "make her stop".
Ah, a little better--the senior prom.
I only had to ask two people before I got a Yes from "the Maker". God, having read the minutes from my dance history: the 1990 junior prom debacle, the various homecomings and other lame dances (I tried, I really, really tried to be social), and magnanimously felt I was "due" for a great time at a dance. Praise Jesus I ended on a bang with this kid for I think I would have given up on guys altogether. Brad aka "Maker" was a junior I knew from my drama class. By this point in my social career, while I didn't have a clique to speak of (unless you call "Floater" a clique), there was a group I felt comfortable approaching and hanging out with. This group was mostly made up of juniors and seniors, many of whom had been in either drama or band, with a smattering of athletes, though none spectacular unless they were cross-country or track kids. Brad is a funny, kind, goofy guy. I didn't know him really well, just that he was fun to be around.
There was one small kink that neither of us anticipated. The week before the Senior Prom was his Junior Prom. If you'll notice, he is a redhead and very fair skinned. As is custom at our high school, day after prom is spent at the beach, where in Brad's case, he ended up burning the shit out of the bottoms of his feet. You can see how this might be problematic, as it rendered him unable to walk without pain and even missed a few days of school that's how bad it was. Now I don't know if you are "aware" of the deal with dances, but, like, the fact is much of your time is spent on your feet. Sometimes dancing even. When he called me DAYS before the dance saying that he MAYBE might not be able to go, I almost died. A wave of panic set in as I debated, "now what am I gonna do?" Was I to find a replacement? To roll the dice and hope he make a can go of it? And if not, stay home or go stag (fucking again)?
Also, we're talking about a fragile teen's psyche here and I wondered, "Are people gonna think he bailed because it was ME he was going with?" But luckily the dance gods smiled on/pitied me and he was able to pull it together and go. We had a terrific time (I'd even found a date who liked to dance, who knew?) and I could not have asked for a better time. If my expectations for the dance were exceeded 10-fold, little did I know there'd be more to come, because Brad has also made arrangements for a party (complete with beer! and no parents!) at his house. Finally, at the 11th hour of my teendom, I got the feeling like I was a "normal".
I should also mention I picked out this dress with no parental interference (I called my mom from the store to ask her if I could buy by telling her I loved it and it was only $79, as I was putting it on her card). When I got it home, my mother was less than thrilled about my choice, not understanding the elegance and perfection of the LBD (little black dress). "A black dress? You'll look like you're going to a funeral." I think she also felt it was a little trollopy. Actually, I believe her exact words were "Jen's slut dress" which to that I say: What? Because it is fitted and to the knee and black? Because it is lacking in lace, a color not found in nature, bows or any telltale signs of poofiness? The hell? Yeah, I'm backing my 18 year old self up here and saying my choice stands up, even 15 years later.
Finally, we have me at nineteen.
I've survived my first year of college and my sister Kate had just graduated high school. As a gift from our uncle, she got tickets to see U2 on their Achtung Baby tour at Foxboro Stadium. What an awesome graduation gift (or any occassion gift, really). I wish there was something l could graduate from so I could score those now. Hmmm, maybe I can convince my work to hold a Six Month graduation ceremony for me.
So that's me, all 6 ornery teen years of me anyway in a nutshell. The complete set is here, which there are a few more gems, like for example me in an ugly bridesmaid dress, graduation, or the day I got mistaken for Debbie Gibson.